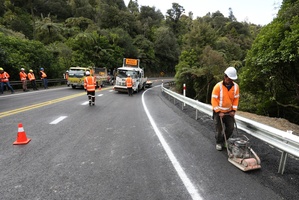 The NZ Transport Agency has re-opened State Highway 1 on the Brynderwyn Hills in Northland to both lanes of traffic.

The road was re-opened at 10:15am today, with pavement works carried out overnight and road markings and temporary speed restriction signs erected this morning.
Well done to all concerned.
They've rebuilt 100m of two lane road from a 15m deep hole in a few days. From the bottom of the hill to the top heading north is only 2200m. By my calculations, in 21 weeks there could be 2 lanes from bottom to top. Just in time for the holiday rush.
Instead of slinking through side doors at your local airport, how about making that happen Mr Brownlee? Cunners knows where there's $200M pot of gold for regional development if you're looking for money.
Bugger the cost,
just get on with it!
While you're at it, reseal the blacktop from the Brynderwyns northward to Cape Reinga ASAP. It needs it after the weather bomb of the past few weeks.